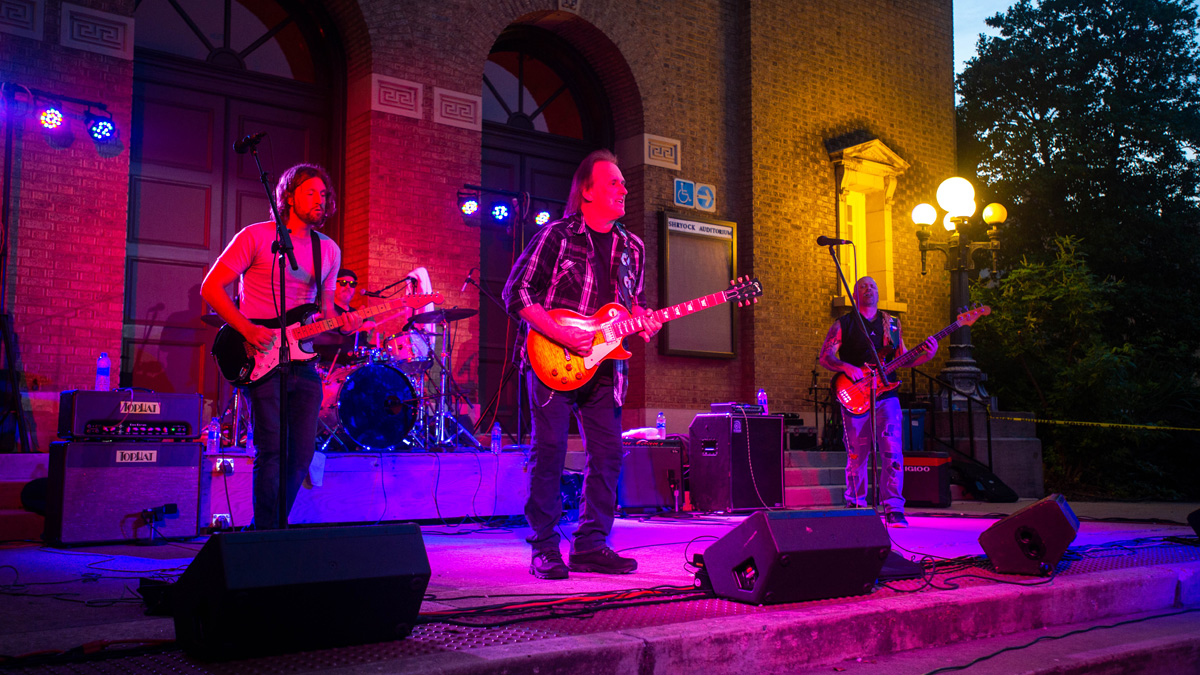 2022 Sunset Concerts Begin June 30
May 20, 2022
2022 Sunset Concerts Begin June 30
CARBONDALE, Ill. – It's back! The Sunset Concerts series, a popular summer tradition since 1978, returns in 2022 with six weeks of free musical entertainment for all ages and interests.
This summer's season opens June 30 on the steps of Southern Illinois University Carbondale's Shryock Auditorium. The outdoor concerts, held every Thursday evening until July 28, are all free and everyone is welcome to attend.
The location alternates between the campus scenic spot and two other locations in the town of Carbondale. Summer 2022 marks a return to normal for the event, which was canceled in 2020 due to the COVID-19 pandemic and rescheduled for later than usual last summer.
"We are thrilled to continue the long-standing tradition of hosting Sunset Concerts for our community," said Tena Bennett, director of the university's student center. "SIU, the Town of Carbondale and the District of Carbondale Park are pleased to work together to accommodate a variety of diverse groups to provide great entertainment in a family-friendly environment."
Casual fun for all
Concert visitors are encouraged to bring lawn chairs or blankets, as well as refreshments.
Concerts all start at 7 p.m. and last about two hours. The locations are:
The steps of the Shryock Auditorium on the SIU campus.
Carbondale's Turley Park, located on the west side of town.
The corner of Washington Street and Illinois 13 in downtown Carbondale.
Diversified range
The 2022 lineup includes an eclectic mix of musical genres. Here is the complete program of the Sunset Concert:
June 30 – Modern Day Saints, Shryock Auditorium steps. The band toured the country playing a variety of rock 'n' roll styles. Currently featuring Terry White, Tom Kneesel, Mike Kraniak and Paul Bivans, the Saints can be heard playing everything from Hank Williams to Bob Dylan, The Band, Neil Young and the Rolling Stones.
July 7 – Greg Klyma, Turley Park. Klyma has been part of the music scene for almost 30 years, touring the country tirelessly. He plays mandolin, tenor banjo, piano and harmonica and writes songs influenced by old school country and rock music. His performances are a mix of old-school country and rock, mixed with 80s favorites and American songbook classics.
July 14 – Funky MojoDaddy, Washington Street and Illinois 13. This energetic band from Chicagoland/Northwest Indiana will entertain with a blues, funk/soul roots-rock performance. Band members Kenny Kensey, Jerry Porter, Jeff Massey, Ryan Frahm and TJ Jenkins have toured with artists including Buddy Guy, The Kinsey Report, Steepwater Band and Green Room Rockers.
July 21 – The Bashful Youngens, Turley Park. This Champaign-based American duo of Carrie Chandler and Aaron Short deliver a unique sound that falls somewhere between modern folk and alternative country. They are perennial festival favorites at Pymalion, Shoe Fest, Summercamp and more, and have a strong following in the Midwest, sharing bills with artists like Allison Russell, Birds of Chicago, Paul Thorn and Old Salt Union. Their new single, "When I'm Dead and Gone," was released this spring, and the full album will be released later this year.
July 28 – Gizzae – Steps from Shryock Auditorium to SIU. Gizzae is one of the most eclectic international reggae bands, playing around the world for over 35 years. The band members have won Grammys and Chicago Music Awards, opened for some of the biggest names in reggae, and recorded with artists including Ziggy Marley, The Rolling Stones, Bruce Springsteen and many more. The band has created a unique musical blend of roots/jam reggae influenced by soca, cumpas, calypso, jazz, rock, blues and more.
A few rules ensure fun for all
Concerts have been a summer staple for decades and usually draw large crowds. In order for everyone to have a pleasant and safe time, a few rules are in place.
Prohibitions on glass bottles, kegs, smoking, pets and solicitation will be enforced, as will underage drinking laws. To learn more, visit studentcenter.siu.edu/sunsetconcerts or follow the Student Center on Facebook or Twitter.
The SIU and its Student Center and Student Programming Council, along with the City of Carbondale and the District of Carbondale Park collaborate to provide musical entertainment. Sponsors also include Country Financial and the Southern Illinois Credit Union.