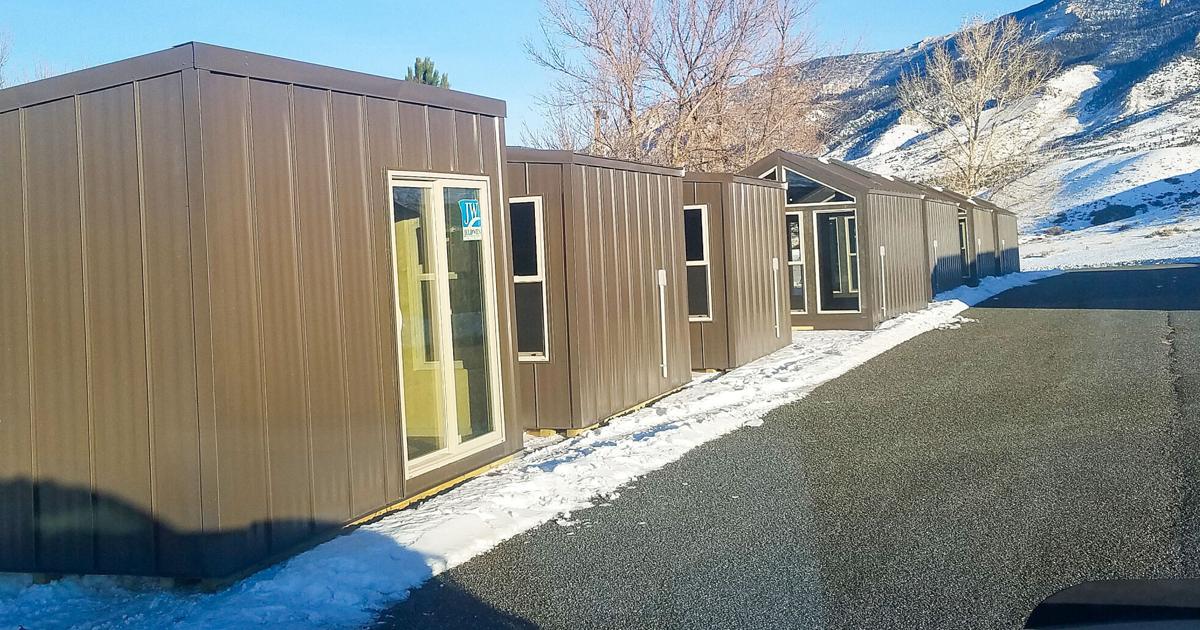 'Camp shacks' explained in detail | Local News
Plans for a set of 11 temporary cabins that will open at Buffalo Bill State Park this summer are beginning to take shape. On March 14, staff from Wyoming and Buffalo Bill State Parks held a public meeting to answer questions about the primitive structures.
The meeting was a night and day difference from contentious public meetings held last summer regarding the planned construction of temporary campsites off Bartlett Lane on the South Fork. Dozens of people have come forward to oppose the project, many outraged that the work has already been launched without seeking public comment. Public response led State Park to cancel the project for the foreseeable future.
"We don't have any plans to move forward with development there like we did before," said Brooks Jordan, district manager for the Big Horn District of Wyoming State Parks.
The new cabins, which will only be located on the North Fork and are informally known as "camp shacks", were received much more favorably at the March 14 meeting, with almost everyone present expressing verbal support. at the end of the meeting.
The cabins are introduced as a way to manage increased park attendance.
Dan Marty, Superintendent of Buffalo Bill, said that by contacting 18 different local hotels, motels and RV businesses to get their opinion on the cabins, he received a resounding level of support.
But one demographic Marty didn't mention was vacation rental owners, of which there are now hundreds in Park County. Greg and Jo Hunter run a vacation rental business at their South Fork property, which includes four small cabins. Jo Hunter said at the reunion that their cabins could only hold about two people and were quite similar to the primitive cabins planned for Buffalo Bill.
"It's direct competition for us," Hunter said during the meeting. "We are in direct competition with you (Buffalo Bill)."
Jordan said he'd be happy to refer people to the Hunters if they're looking for a more traditional vacation rental experience, and finds the North Fork state park location "quite different" from South Fork in terms of concerns traffic and landscape.
"We don't want to compete with you specifically," he said. "If we find that there is a competing component, we have the ability to make adjustments, whether it's price or location."
Park cabins will be primarily advertised on Reserveamerica.com. Jordan said the park would charge no more than $60 per night. Including day use fees and other miscellaneous park fees, bringing the total to nearly $100. Of the 198 Airbnbs currently available for booking today in Cody, only 41 charge less than $100 per night.
"We don't want to undermine private industry," Jordan said.
There are very few local vacation rental properties that offer accommodation as primitive as Buffalo Bill's Cabins.
"You can't charge that much for a primitive cabin," said Ruffin Prevost, a member of the Park County Travel Council, who said he's researched the local vacation rental market extensively. "Generally, for-profit operators don't spend time developing a property to have something that's just primitive."
But Prevost also said there could be a niche filled by cabins, providing lodging for those who want more than a campsite, but less than a traditional motel or Airbnb.
Camp huts are bare, lack electricity, water, and bathrooms, but have insulation, bunk beds (no linens), table, chairs, and nightstand. Cooking will not be allowed in the cabins. The cabins have brown metal cladding and large windows. Some people present at the meeting criticized the appearance of the units.
"Part of the aesthetic came down to cost," Jordan explained.
Jordan said cabins will most likely be open during the peak summer months. Although Jordan said that due to rising gas prices, he doesn't expect park attendance to grow as quickly this summer as in recent years, Marty said many owners of RV parks he spoke to were already full until July.
Each cabin can accommodate 2 to 4 people and is equipped with a code lock for the entrance door. There will be four at Stagecoach Campground, four at Sheep Mountain Day Use Area and three at Shreve Lodge. Their sites will include bear-proof containers, communal portable outhouses, and fire rings.
Jordan said cabin compliance will be monitored throughout the year and additional guards will be hired for the summer months to handle increased visitation. Visitors will only be allowed to pitch one tent outside each cabin.