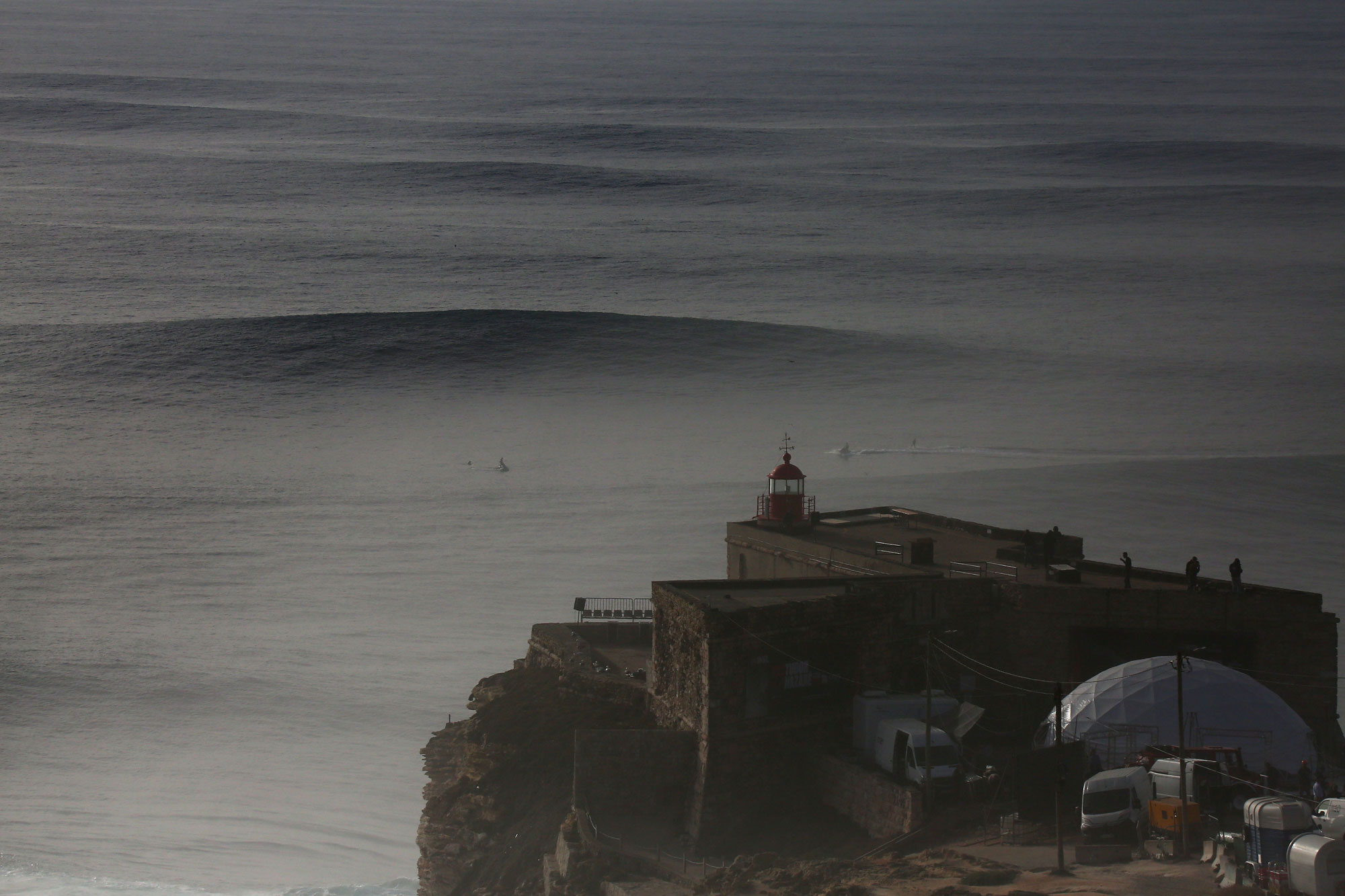 First impressions: Nazaré – Surfline
Editor's note: Jake Tellkamp is a new member of the Surfline team who tends to like bigger waves – Maverick's, Jaws, etc. When we saw the series of waves build up in the North Atlantic last week, we thought it would be a good opportunity for him to experience Nazare for the first time, follow Jamie Mitchell and Jojo Roper and report in the field. He went reasonably crazy on social media and the site, delivering XL updates in real time for four straight days. Now that he's back, we asked him to share his first impressions of the world's scariest A-frame. (Hint: It's scarier than it looks.)
***
I was sitting in a bar in Rincon, Puerto Rico when a Surfline manager called me after hours. I thought it could go two ways: I'm in trouble or I have a mission. I answered.
"Jake, how do you feel about going to Nazaré to be our man on the ground for this swell?" »
"Are you kidding?" I asked. He assured me not. The mission was to fly to Portugal the next day to meet Jamie Mitchell and Jojo Roper and follow them as they tackle Mount Everest on the surf. I had never been to Europe before – I had never been on a business trip anywhere. A few months ago, I was folding t-shirts and rolling poke burritos in San Francisco. I accepted immediately with a "Yes!" A nasal swab, a taxi ride, a layover and a rental car later, and I was driving as fast as possible from Lisbon to Nazaré.
Most of the images of Nazaré that we see are taken from the cliff – a natural amphitheater with a bird's eye view of the waves. This is where thousands of spectators watch the phenomenon. I wanted to see Nazaré from the sand to feel the waves crashing, so instead of heading to the lighthouse, I went down to Praia do Norte, slammed the car into the park next to caravans and campers, and I sprinted down the beach.
I admit I was an opponent when I first saw Nazaré online. I dubbed it a giant mushroom ball that photographed well, but has no place in the conversation of the best big waves on Earth. Seeing him in person, however, only proved how wrong I was. I stood alone on the shore, my jaw dropping, absolutely terrified of what I was looking at.
My first impression was that I wanted nothing to do with this wave.
Watch Nazare from camera security
Whenever you see a new wave for the first time, it's natural to compare it to a wave you've ridden before. To me, Nazaré felt like Maverick's and Ocean Beach had made a baby, and that baby came out angry, determined to destroy egos. I was more than happy just to watch. It was big and beautiful. Offshore winds caused the juggernauts to break apart in slow motion under the champagne glow of the evening sun. I was mesmerized watching ant-sized humans whipped into waves that cast shadows. It was as impressive to me as the moon landing must have been to my grandparents.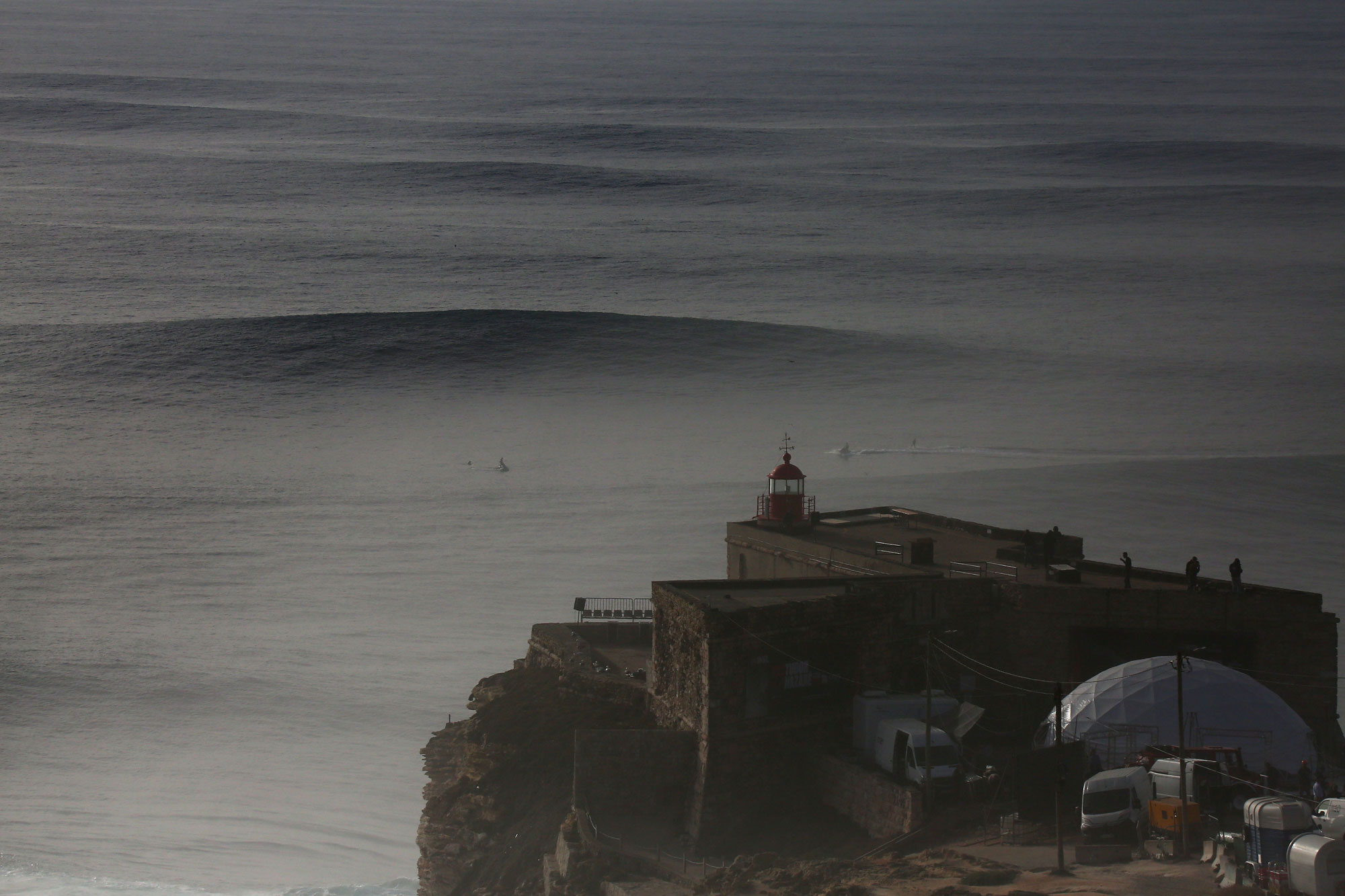 Spikes the size of buildings exploded in all directions. It made no sense. It seemed like luck was the difference between the beat of a lifetime and a successful run. And even if you came out unscathed, the only way back was a miracle or a jet-ski maneuver. I ran to the car and drove along the cobbled streets to the lighthouse. I walked past the bullfighting arena and thought of the matadors fighting bulls, and how tame that must be compared to those surfers charging leviathans roaring out of the underwater canyon. I parked near the church and ran to the lighthouse to watch the wave from a higher vantage point. It looked less chaotic from the lighthouse than from the shore. I could see the different peaks and areas that surfers referred to, and how security crews weaved through the whitewash to exit out the back. I understood that surfing in Nazaré is a team sport. Going there alone is nearly impossible, or a death wish, and its success is based on confidence and the ability to withstand a kick until a guardian angel comes to the rescue with an outstretched hand.
Full Swell Story: Europe Winter Cruise
I went to the marina to meet Jamie and Jojo, who were renting a ski – their guns laid out in the dirt parking lot as they considered which to get on first. It was then that Jamie learned that the WSL had invited him to the Nazaré Tow Surfing Challenge – but not Jojo. I could feel his disappointment. He ultimately used that discouragement as motivation to paddle his own massive waves this week. There was a problem, though: Jamie had come to Nazaré without a tow board, but he and Jojo are like brothers, so Jojo put his frustration aside and started helping Jamie out on the big day. He headed to the Red Bull warehouse and returned with Justine Dupont's brand new tow board. It had never been ridden. I was beginning to understand the camaraderie of the big wave elite.
Photos: Jake Tellkamp

That night, we headed back to the Centro de Alto Rendimento da Nazaré, or CarSurf for short, a state-sponsored big-wave training and lodging facility, where we would sleep all week. It felt like a summer camp for big wave surfers, and I was paralyzed with fear that my snoring would keep them awake and interfere with their ability to ride bombs the next day. I was half right. After being roasted at 5am to saw logs, I drank espressos from vending machines with Jojo, while Jamie had hot lemon water. Apparently, he's never had a coffee in his life, which only makes his strike mission exploits all the more impressive.
We checked out the waves, and it was big and clean – great conditions for paddling. We were soon joined by Clint Kimmins, a professional triathlete I had met at Maverick's. I knew Clint was a certified shipper. He'll go on anything, and he was super excited to get in the water after two years of confinement in Australia. He borrowed Jamie's board, Andrew Cotton's vest and mismatched slippers. None of this seemed to matter. The three were a good team – they took turns racing safely and caressing some of the biggest waves I've ever seen first hand. When they got back to the marina, they said the itch wasn't quite scratched.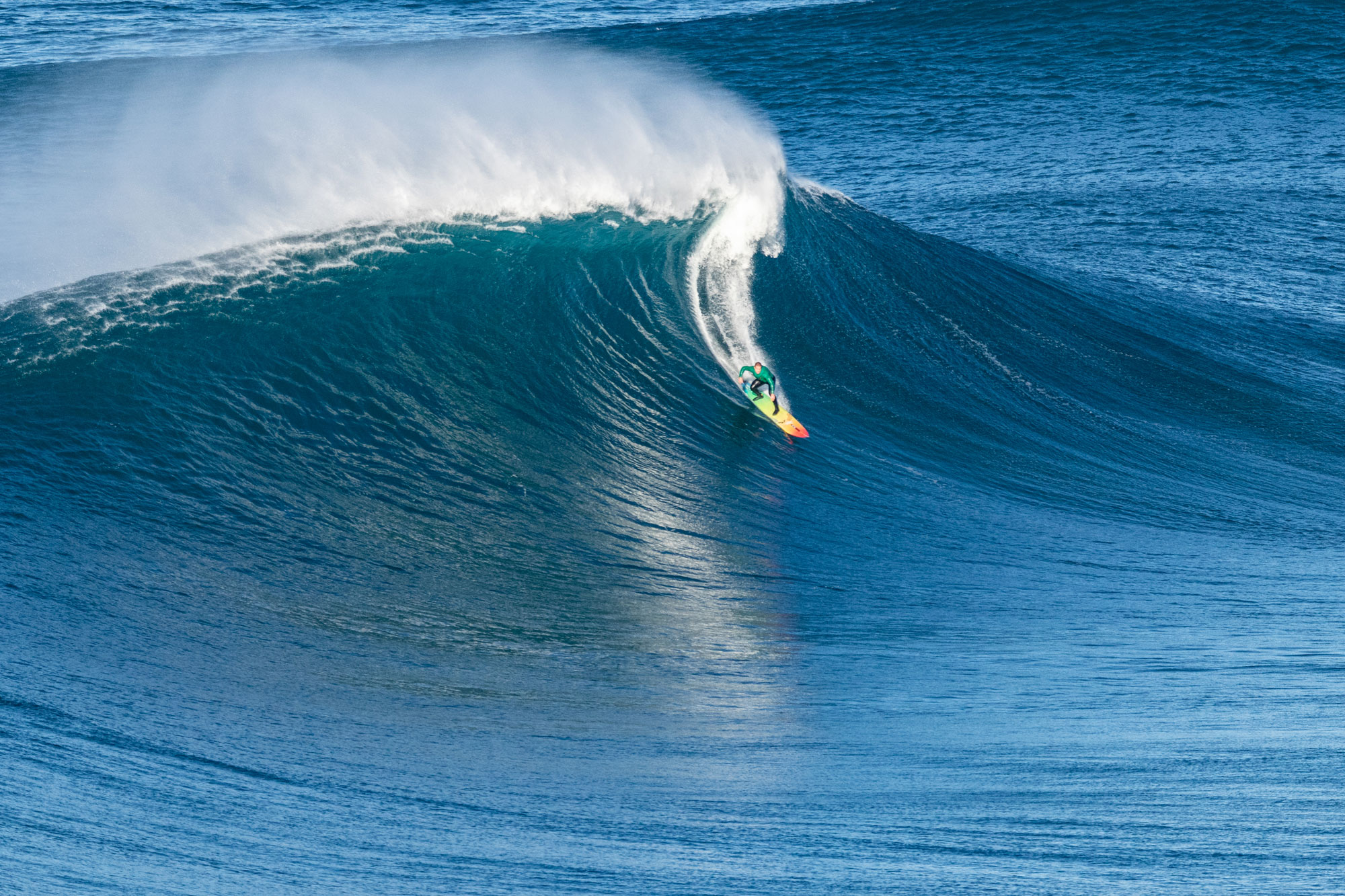 The next day, Jojo almost pushed me into paddling. It was smaller, but Kevin Wallis messaged me about capsized buoys in fast rising waves. I was glad I followed my instincts as it went from 12ft to 60ft in two hours. So, I went to Peniche and surfed Supertubos, then returned to Nazare that afternoon. Fog set in and I found myself helping a tow crew hold their grounded ski. The ocean had torn him apart. Its captain, Antonio Cardoso, lying on the sand, exhausted and distressed after having taken three sets on the head before being rescued. He'd waited months to fix a small part on his jet ski, only to have it almost entirely here.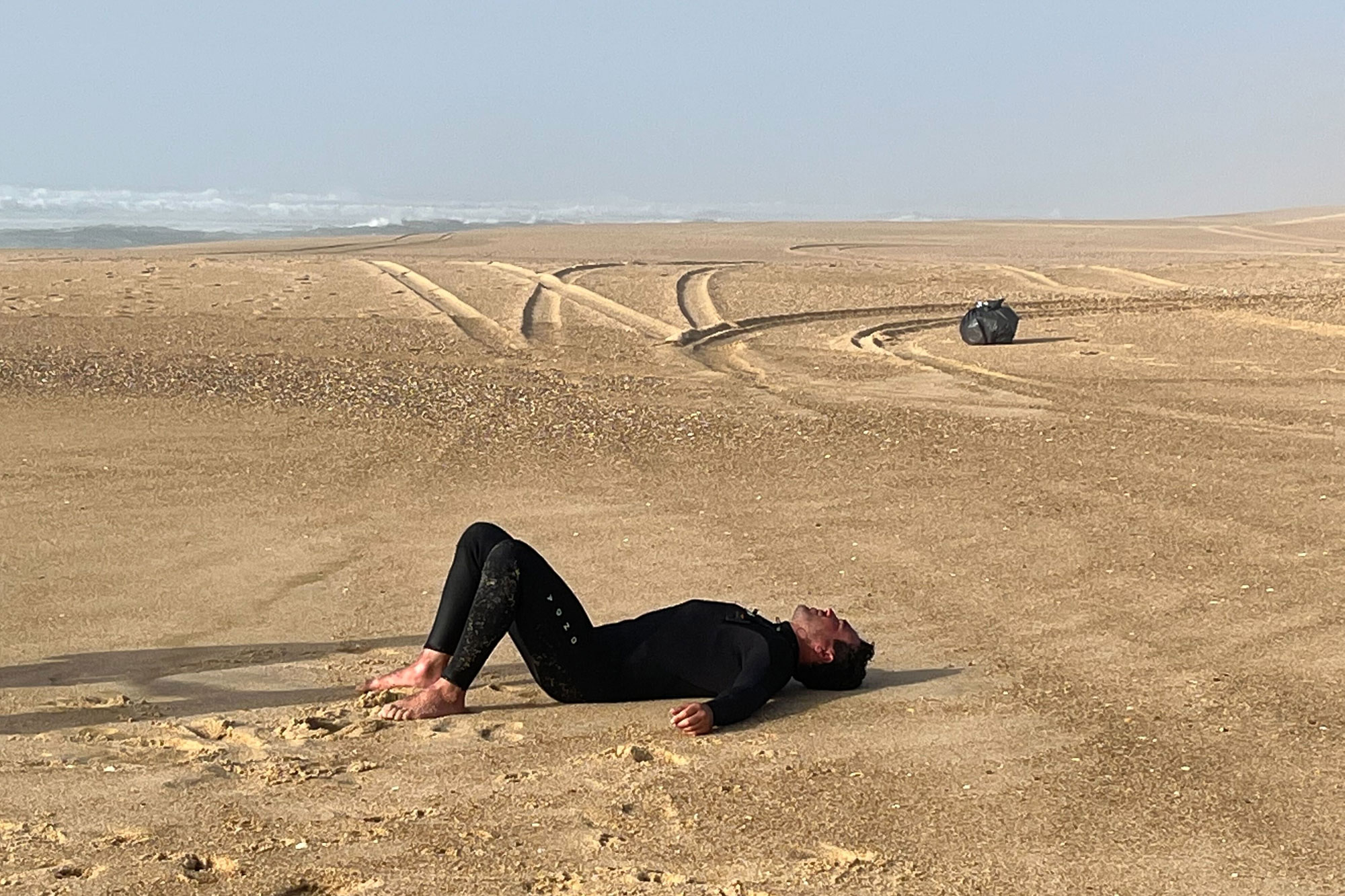 We didn't get much sleep the night before the contest. Jamie had surfed one of the only paddle waves that day, and the adrenaline had driven him up. He's won in Nazaré before, and his plan this time was to get knocked down. With Chumbo in the draw, it seemed like the only plausible way to beat him.
The competition was vague and the day was rich in emotions. I almost cried watching Justine Dupont console António Laureano for having to default due to his injured ankle. She cared more about her competition than her own injury. Then I giggled alongside Clint Kimmins as he recalled his epic rescue of Andrew Cotton, just before Cotty was swept into the death zone. And I was filled with dread when Jamie found the giant barrel he was looking for. He clung to him, fracturing his L3 vertebrae. Jojo and Clint followed the ambulance to the hospital, and I found myself alone at the awards show, feeling like a stranger for the first time.
Naturally, Chumbo won Best Male Performance, while Maya Gabeira won Best Female Performance. It was Maya's first professional win, at age 34, and on the podium she said something about not giving up on your dreams until they come true. I take his advice to heart. I vow to train harder, to return to Nazaré one day and experience firsthand what it feels like to trek these mountains.